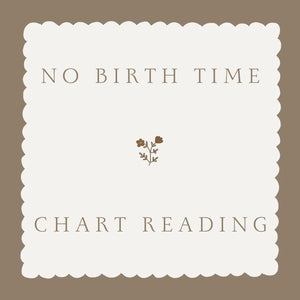 Sisters Village
your planets birth chart reading
Regular price
$44.00
$0.00
This is a mini chart reading, that talks you through your planets and what each sign in your planets means for you. This reading can be done for those who don't know their birth time but would like to know their placements such as their sun, moon, Mercury, Venus, mars, Jupiter, Saturn, Uranus, Neptune and Pluto and what each of those planet placements mean for your personality.
However you're still able to purchase this reading if you do know your birth time but just want a planet reading instead of a full chart reading  
For this reading I will need your date of birth, city and country of birth and gender/pronouns)  - please write these details in the cart before checkout (add reading to cart, go to your cart and click just above the subtotal and write signs there)
This reading comes sent as a digital PDF to your email address that is given upon checkout. Please allow up to 4 weeks to receive. 
---
More from this collection